The vast and green mountain region, fresh air, cool and many famous places attract millions of tourists to explore and enjoy their days off by means of private car Transfer from Vung Tau to Da Lat service. Vietnam's leading tourism in the country, safe, sure, bring a good trip.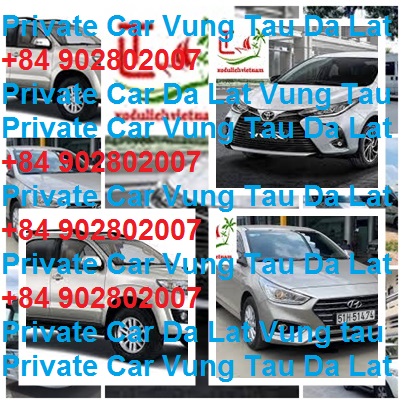 Rent a car from Vung Tau to Da Lat 1 way, 2 ways (Private car),  Pick up guests at the hotel or private house. Distance: ~300 km. Travel time: 7 hours (Depends on traffic conditions). The price of the car includes all costs of tolls, parking, and drivers. Friendly and professional driver
100% clean car, new life, good working air conditioner.
24/7 customer care hotline. Support customers throughout the journey.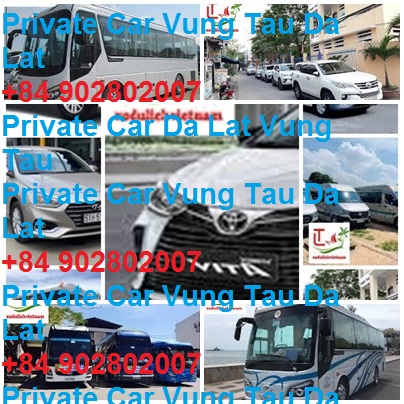 Luxury car, new life is comfortable and private like a home car
Best cheap price in the market, easy to book and pay online, save 10% compared to other cars
Easily compare prices, vehicle types and have a wide selection
Driver picks up on time, enthusiastic, friendly
Vehicles with logo plates to identify easily find cars in the middle of crowded airport cars
Take initiative in time and route
24/7 support call center staff
Experience the service of 5 * car rental Vung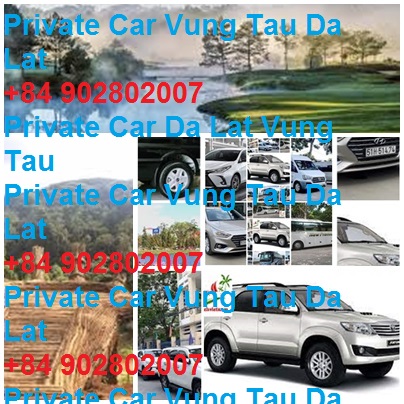 4-seater car like Toyota Vios: most comfortable when traveling with 2 passengers 2 pieces of 24 inch luggage
7-seat car Toyota Innova, fortuner: optimal when traveling with 4 passengers 4 pieces of 24 inch luggage
Ford transit 16-seat car: optimal when traveling with 10 guests, 10 pieces of 24-inch luggage
Checked baggage is about 24 inches, please ask the customer service staff in advance if your luggage is larger than the above size. In addition, if you need to book a taxi in Da Lat to travel at different time frames, please call Hotline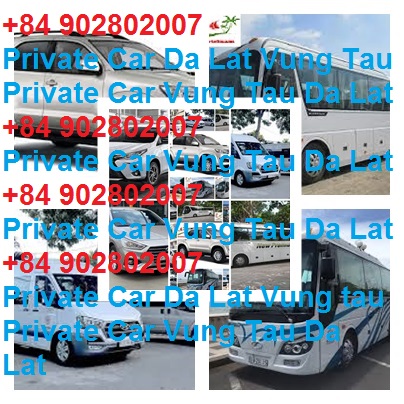 Price list of private car Vung Tau Da Lat
Transfer from Da Lat to Ho Tram by Private Car
ONE-WAY CAR RENTAL (1 Way)

GIÁ XE(usd)

4 seater Da Lat – Vung Tau Private car

150$

4 seater Vung Tau – Da Lat Private car

150$

7 seater Private Car Da Lat – Vung Tau


160$

7 seater Vung Tau to Da Lat Private c

ar




160$

16 seater Private car Da Lat – Vung Tau

230$

!6 seater Vung Tau – Da Lat Private car


230$

29 Seater Da Lat – Vung Tau Private c

ar




280$

45 seater Vung Tau – Da Lat  Private Ccar


380$

9 seater of Limousine Da Lat – Vung Tau Private

260$

Includes:  Petrol fee, toll, driver ( 4,7,16.9s limo)

Not include VAT 

Contact:  0252 3741103 – Hotline:  +84 902802007 (zalo, Line, Whatsapp, viber )

* If you rent a 2 way car to Da Lat to Vung Tau Private or rent a package tour car from Vung Tau to Da Lat car rent from 4 seats – 7, 16, 29, 45 seats, please contact
Quote
Range of vehicle

Top quality car, genuine car, new car rental

♦ Last minute booking;
♦ Always available car
♦ High-quality and good service guarantee.
♦ Get 24/7 online support via Whatsapp at +84 902802007

cars with many lines from 4 to 45 seats, limousines 9, 10, 18 seats

♦ Guaranteed delivery time.
♦ Quality service comes with the most reasonable cost.
♦ Provide full contract and VAT invoice at your request.

Line, yalo, Whatsapp at +84 902802007

Our company is always active 24\24, anytime, anywhere, attentive service, fast response

♦ Clean and spacious car.
♦ Quick and simple procedure.


Line, yalo, Whatsapp at +84 902802007

 

Reasonable price, dedicated driver, pick up and drop off, pay after the trip ends

♦ Always support you 
♦ Ensure technical safety when operating vehicles in transit.

Line, yalo, viber, Whatsapp at +84 902802007
With long-term professional expertise, we believe tuong3 brings the value of Da Lat to Vung Taucar service in the truest sense, the most satisfied destination, a beautiful experience to explore many tourist attractions at the place you want
Fairytale Land Da Lat
Fairytale Land – Vinh Tien wine cellar Dalat is a "virtual living mecca" causing a fever in recent times. This resort is inspired by the Hobbit fairy village in northern New Zealand to create a world of dwarves, a cute fairyland, along with colorful and brilliant flower gardens in the garden. sunny.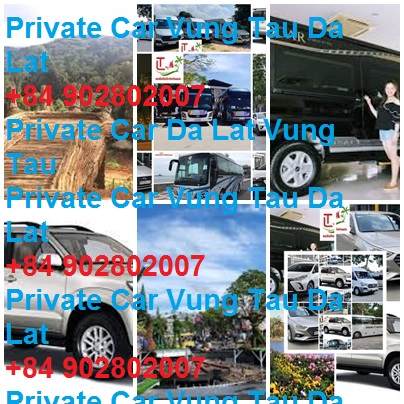 QUE Garden Dalat
If you love the art of bonsai, visit QUE Garden Dalat, the largest coniferous bonsai garden in Vietnam. Coming to , you will feel like you are in the land of the rising sun, with beautiful bonsai trees that are carefully cared for and molded, next to a Japanese standard Koi pond with thousands of large and healthy Koi fish. .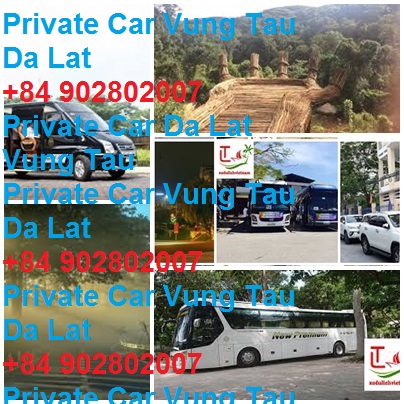 Da Lat Dog Farm
This is a place that is loved by many people, because this is the common home of more than 150 "sweet" dogs. When you come here, you not only play with cute dogs, but also walk around the beautiful flower fields, or the agricultural garden planted with modern technology. At the farm, there is always a team of staff to guide and support you when you need it.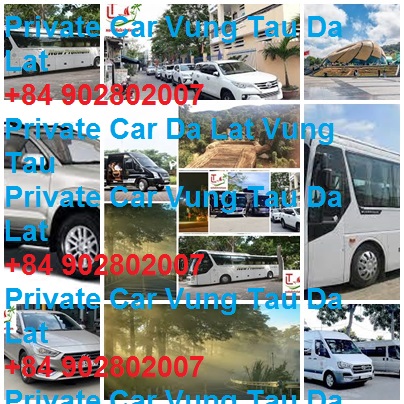 Vườn Bí Ngô Khổng Lồ Đà Lạt
Da Lat has many places to grow pumpkins, but must mention the giant pumpkin garden of Mr. Phan's family, with three types of giant squash weighing up to 100kg. In addition to giant pumpkins, Mr. Phan's garden also grows many other seasonal vegetables such as kale, broccoli, especially black and yellow tomatoes.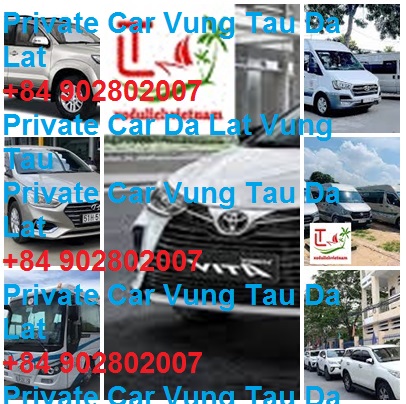 Heaven Gate Bali Green Hills Dalat
Located inside the Greenland 2 resort, Bali Da Lat Heaven Gate, also known as Green Hills Dalat is one of the most popular attractions for young people in Da Lat. Dalat Heaven Gate is the Vietnamese version of Bali Heaven Gate at Pura Lempuyang Luhur temple, Indonesia.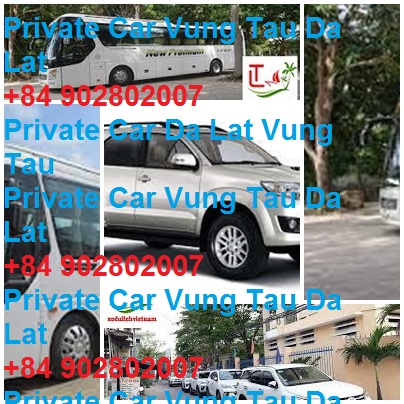 Me Linh Coffee Plantation
commonly known as Me Linh coffee plantation, is a cafe with an airy and quiet space. With a coffee garden stretching on the hillside, in the distance are sunflowers, hydrangeas and wild sunflowers, this place is considered a small plantation in the countryside.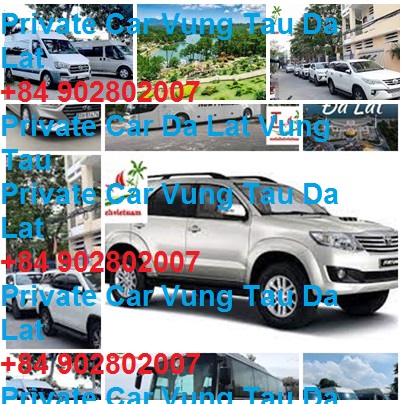 Da Lat Elephant Waterfall
It would be remiss not to include Lieng Rowoa waterfall, also known as Lieng Rowoa waterfall, on the list of places worth visiting when coming to Da Lat. For those who like adventure, Elephant waterfall is the correct choice. With its wild and majestic beauty, Elephant Waterfall has been recognized as a relic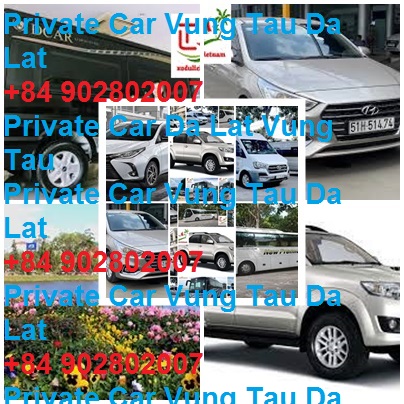 Dalat Cricket Farm
Thien An cricket farm in Dalat must be quite strange to many people, but if you have the opportunity, visit the cricket farm to experience the difference compared to the usual tourist attractions. Here, you will be enthusiastically instructed by the farm owner on how to raise crickets, care for crickets, and breed. In addition, you can also enjoy dishes made from crickets.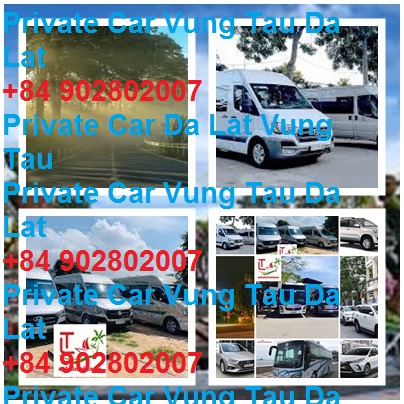 Van Thanh Flower Village Dalat
Speaking of flowers, we cannot help but mention Van Thanh flower village – a traditional flower-growing village that has glorified the Da Lat flower brand. The flower village has been formed for a long time, is a place that provides prestigious and top quality flowers in Da Lat, and has become a famous tourist attraction.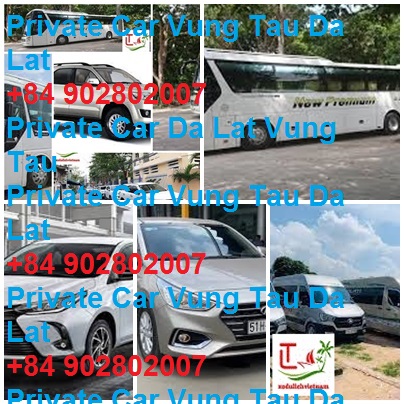 For more information Booking from Da Lat to Vung tau, please contact us