Ben Tre Transfer, Private car rental contracttravel to visit, relax, have fun on weekends. Because Ben Tre is close to Saigon and belongs to the Western provinces, so there are many typical regional dishes that attract tourists to many places, the highlight in Ben Tre that attracts many tourists is the gardens. Specialty fruits with fruit trees all year round.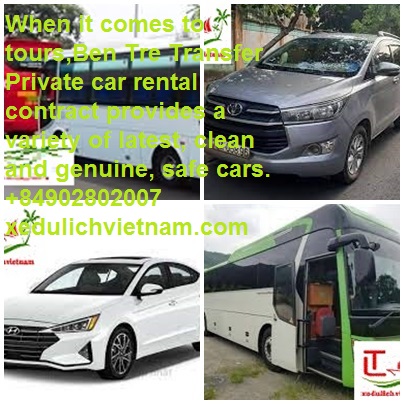 Price list of Ben Tre Transfer for reference
ONE-WAY CAR RENTAL (1 way)

GIÁ XE(usd)

4 seater car Ben TreTransfer

75$

7 seater car Ben Tre Transfer




79$

16 seater car Ben Tre Transfer

110$

29 seater car Ben Tre Transfer




250$

45 seater car Ben Tre Transfer




340$

9 seater of Limousine Ben Tre Transfer

170$

Includes:  Petrol fee, toll, driver ( 4,7,16.29s, 45s Limo)

 

Not include VAT 

 

Contact:  0252 3741103 – Hotline:  0902802007 (zalo, Line, Whatsapp, viber )

 

* If you rent a 2 way car to

Ben Tre

and Ben Tre

 f

or rent a package tour car from

Ben Tre

Transfers

 from 4 seats – 7, 16, 29, 45 seats, please contact
It can be said that one of the leading criteria leading to success is the decisive factor in both the quality of the car and the price of the car rental company in Ben Tre, which must meet some basic criteria. as follows. Long time driving, experience, know the road, Enthusiasm, Absolutely must pick up on time, arrive 15 minutes before,  Commitment No extra charge.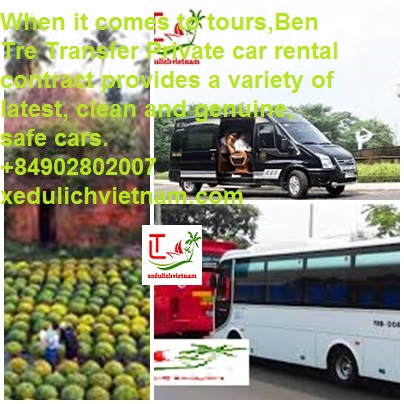 Top tourist cars in the South West region. Determining the prestige of Transfer Ben Tre. Provide a variety of car models that customers choose. Clear and transparent rental procedures, providing information on prices, transportation regulations
Ba Tri Transfer
Binh Đai Transfer
Chau Thanh Transfer
Cho Lach Transfer
Giong Trom Transfer
Mo Cay Transfer
Thanh Phu Transfer
When the Ben Tre Car Rental contract travels to Ben Tre because the distance is very convenient more than 100km, With a team of drivers, cheerful and enthusiastic with the cheapest car rental prices in the market, our rental car lines I am always clean, smooth, well-groomed. Simple documents to protect the interests of customers.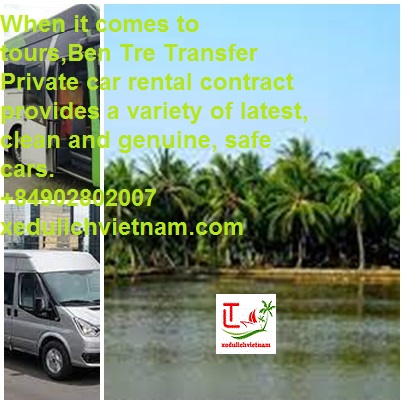 When customers choose to rent new Ben Tre Transfer service, you will feel more comfortable during the journey. In fact, older cars often have unsafe problems such as: the engine is not smooth, the car is prone to shocks, the air conditioner is not good, the space is tight, the car consumes fuel, ….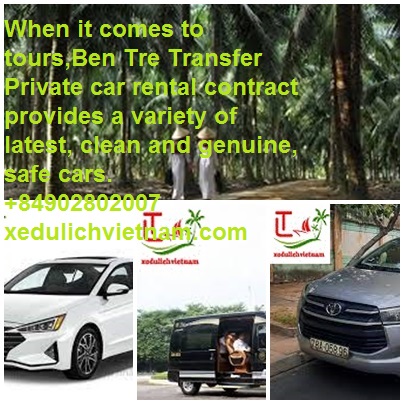 https://www.xedulichvietnam.com/ 
we invest in 100% new cars, periodically change and upgrade new cars to keep up with the times according to customer needs, from ben Tre to Ho chi Minh, sai gon, from ben tre to tan son nhat airport 
What factors from Private Transfer Ben Tre service?
Optimizing car rental prices in Ben Tre. Most customers prefer discounts and have the most reasonable prices to save costs, so our company also has a number of promotions, gifts, and gifts for some cases and the right time. The plan the company has prepared in advance.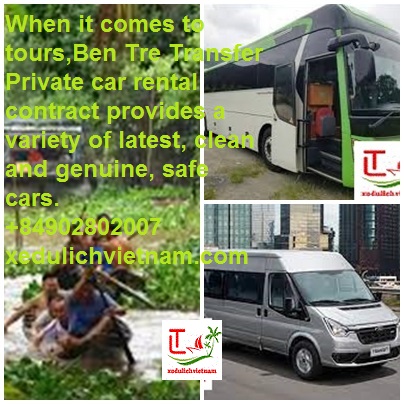 Product quality,Quality is a determined focus for all staff members who are fully aware of the role each member has been working at the company, wishing to bring the best to customers.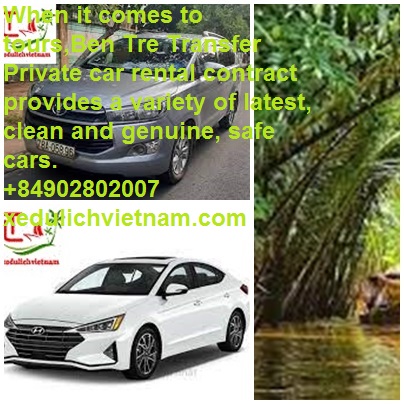 Contract vehicle procedures, The contract is an important legal basis to confirm the transaction between the two parties, closely related to the interests of the customer and the garage, so we try to simplify, summarize briefly without wasting much time. still maintain objectivity.
How do you Transfers Ben Tre?
The distance from hcm transfers to Ben Tre Mekong will be 70 km away in 5hrs 30 minutes in driving throughout of Ho Chi Minh, My tho, before going to Ben Tre. If you are going to Mekong delta BenTre,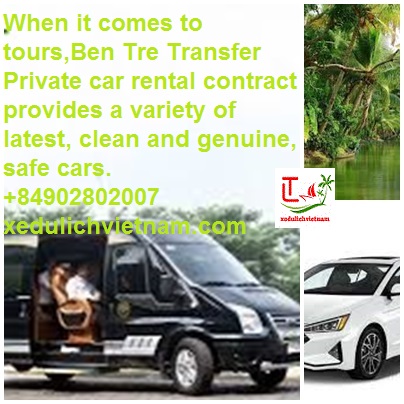 Ben Tre car service  from sai gon so you may consider to look for a good charter taxi transfers ho chi minh to Ben Tre because of the reliable cost, experience in driving, good driver service as friendly, puntual driver, no hidden charge, safe on your journey to Ben Tre from hcm
For more information, please contact us
Many satisfied customers are a place of trust
Modern car in good condition
Safe & on time journey
Service 24\7
Experienced, polite, English-speaking driver
Price is fixed and includes tolls
No extra charge for flight delays
Pay after the trip by US dollar or Vietnam dong