The most beautiful resort paradise in Vietnam is Mui Ne, which wastes many international tourists knowing a lot, attracting millions of visitors to explore, so that the number of tourists looking to Mui Ne Transfer, Phan Thiet Car, Phan Thiet transfers car private is increasing day by day. voiced the trust of the Vietnamese travel agency over the years.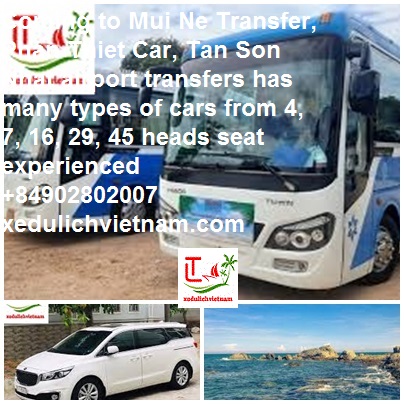 Price list of (Phan Thiet) Mui Ne Transfer
ONE-WAY CAR RENTAL (1 way)

GIÁ XE(usd)

4 seater car Mui Ne Transfer

75$

7 seater car Mui Ne Transfer




80$

16 seater car Mui Ne Transfer

120$

29 seater car Mui Ne Transfer




300$

45 seater car Mui Ne Transfer




450$

9 seater of Limousine Mui Ne Transfer

190$

Includes:  Petrol fee, toll, driver ( 4,7,16.29s, 45s Limo)

 

Not include VAT 

 

Contact:  0252 3741103 – Hotline:  0902802007 (zalo, Line, Whatsapp, viber )

 

* If you rent a 2 way car to

Mui Ne

and Sai Gon Mui Ne

or rent a package tour car from

Mui Ne Transfer

 from 4 seats – 7, 16, 29, 45 seats, please contact
How to travel for car Mui Ne Transfer?
If customers go sightseeing, explore tourism in Mui Ne, we have many unique means of conversion suitable to go to all the places that you need to go to, not only that, the staff will advise more information about Binh Dinh. this agreement.
4 seat Transrs Mui Ne, 7seater

Transfers

Mui Ne, 9seat

Transfers

Mui Ne, 16seat

Transfers

Mui Ne, 22-seat

Transfers

Mui Ne, 29seat car to Mui Ne, 29seat

Transfers

Mui Ne, car 35 seats

Transfers

Mui Ne, 45 seats

Transfers

Mui Ne, Mui Ne Transfers Limousine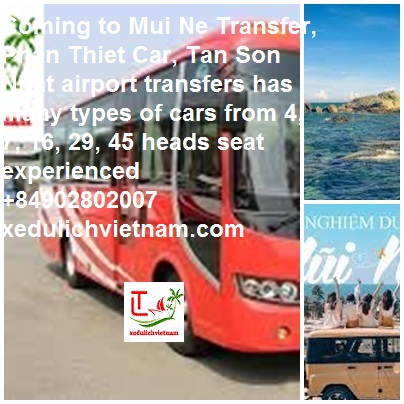 We use recent model, clean and comfortable air-conditioned 7, 12 & 16 seater vehicles. Transfers
Mui Ne for good price.
We use the fastest, most direct route (expressway where available) and we won't charge you extra for it. We won't charge you waiting time at the airport unless your flight is delayed for more than 5 hours. We won't charge extra for airport pickups. We provide a 24 hour English speaking customer hotline. You can pay in the currency of your choice, with any major credit or debit card
The establishment between the two parties is necessary to be binding, responsible as well as related to the interests of both, and avoidance if any. immediately fully protected by law
In the contract, there must be full information such as full name, Mui Ne rental price, company name, contract commitment, signatures of both parties, then the pile grows and divided into 2 tables to save, so rent a car to travel. one-way always prepare everything when customers need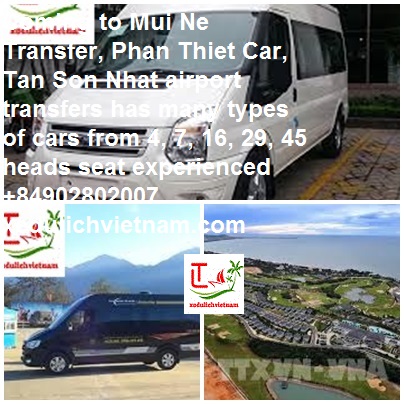 We specialize in providing Mui Ne Transfer service including all existing vehicles that customers can arbitrarily book according to their own preferences, the types of have their own uu7 and disadvantages.
– Tuy Phong Transfer
– Duc linh Transfer
– Tanh Linh Transfer
–  Ma lam Transfer
–  Ham Can Transfer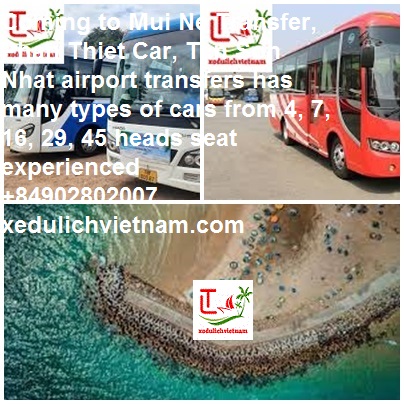 We have the following types:
4-seater car : Honda citi : 2019-2020, Viois : 2018 -2019 – 2020
7-seat car: fortuner – inova ( 2018 -2019 -2020 -2021)
16-seat car : fortrasit – solati ( 2019 -202020 -2021)
29-seat car: Thaco – Samco (2018 -2019 -2020)
45-seat car : universe – space ( 2017 -2018 -2019 -2020 -2021)
Ho Chi Minh Mui Ne Taxi Transfers are by operated by https://www.xedulichvietnam.com/, travel specialists in Mui Ne, Vietnam.  with xedulichvietn is owned and operated by Mr Thanh operator. Our office is in Mui Ne, we live in Vietnam, we're experts in Vietnamese travel and we're on hand to help you while you're here on holiday.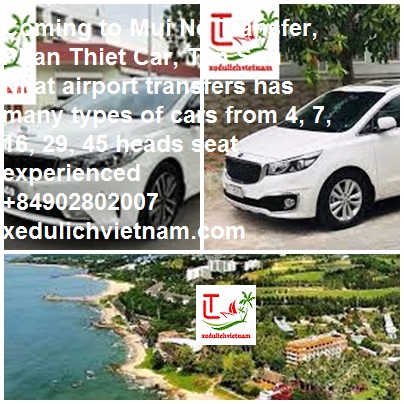 You can rent a tourist car at your destination to go to any province in the locality, Mui Ne Transfer we will respond quickly and quality, safety is the first factor. of couse, Our taxi drivers are instructed to stop approximately half-way through the journey, so you can take a break and have a coffee or a snack. If you want to stop more frequently, no problem, just ask the driver and he will be happy to help.
– Ham Thuan bac Transfer
– Ham Thuan Nam Transfer
– Ham Chinh Transfer
– Ham Tan Transfer
– Ham Cuong Transfer
– Ham kiem Transfer
– Nguyen dinh chieu Transfer
– Ham Tien Transfer
– Ham hiep Transfer
– Thien nghiep Transfer
– Phu Long Transfer
– Ham Can Transfer
– Binh Thuan Transfer
– Ham Thang Transfer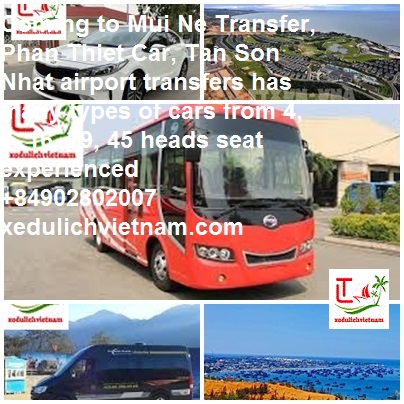 For more information, please contact us
Many satisfied customers are a place of trust
Modern car in good condition
Safe & on time journey
Service 24\7
Experienced, polite, English-speaking driver
Price is fixed and includes tolls
No extra charge for flight delays
Pay after the trip by US dollar or Vietnam dong




Direct messages