Ca Mau is the southernmost coastal province of Vietnam,, located in the maritime arc of Southeast Asia. Nam Can Port has many favorable conditions in expanding trade with countries in the region such as: Singapore, Indonesia, Malaysia … so we specialize in providing Ca Mau Transfer Professional private car rental in Ca Mau 24\24 for many guests. local products at the most reasonable prices.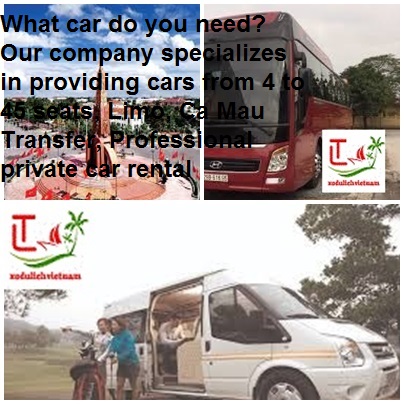 Price list of Ca Mau Transfer for reference
ONE-WAY CAR RENTAL (1 way)

GIÁ XE(usd)

4 seater car Ca Mau Transfer

200$

7 seater car Ca Mau Transfer




210$

16 seater car Ca Mau Transfer

300$

29 seater car Ca Mau Transfer




400$

45 seater car Ca Mau Transfer




550$

9 seater of Limousine Ca Mau Transfer

350$

Includes:  Petrol fee, toll, driver ( 4,7,16.29s, 45s Limo)

 

Not include VAT 

 

Contact:  0252 3741103 – Hotline:  0902802007 (zalo, Line, Whatsapp, viber )

 

* If you rent a 2 way car to

Ca Mau

 

f

or rent a package tour car from

Ca Mau

Transfers

 from 4 seats – 7, 16, 29, 45 seats, please contact
Ca Mau coast is 254 km long, sea area and continental shelf is over 71,000 km² wide, adjacent to international waters and many countries in Southeast Asia; has large seafood reserves and is rich in other resources; favorable for marine economic development, shipping and sea tourism..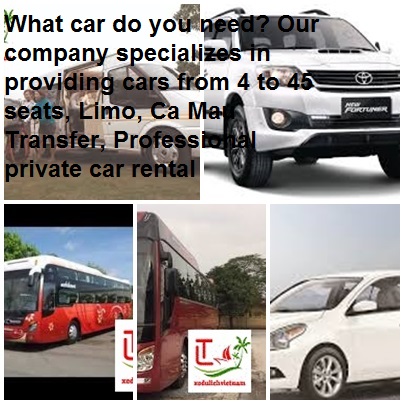 Ca Mau is a province in the Mekong Delta region located in the southernmost part of Vietnam. For a comfortable and affordable Ca Mau Airport transfers, trust Taxi2Airport. In addition to transfers to your business meeting or hotel, we can also provide a transfer from Ca Mau Airport to virtually any place you need to be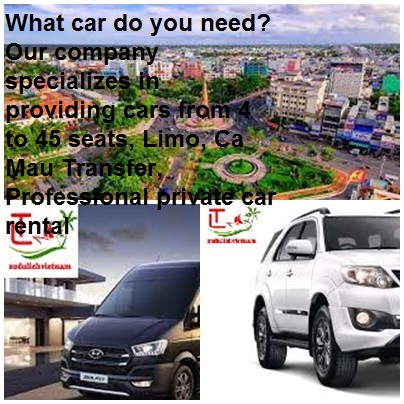 Including communes: Cai Nuoc Transfer car rental, Dam Doi tourist car rental, Ngoc Hien Transfer  car rental, Thoi Binh tourist car rental, Tran Van Thoi Tan son nhat Transfer car rental, U Minh Transfer car rental.
Tourist car to Ngoc Hien Transfer car in Ca Mau
Rent a car to travel to Phu Tan Transfer
Rent a car Nam Can Transfer
Rent a car Dam Doi Transfer
Rent a car Khanh Lam Transfer
Rent a car  Khanh An Transfer
Rent a car Khanh Hoi Transfer 
Thoi Binh Transfer 
Tan Loc Dong Transfer 
Ho Thi Ky Commune
Khanh Dong Transfer 
Binh Dong Transfer 
Xa Ky Transfer 
Phong Dien Transfer 
Xedulichvietnam.com specializes in Ca Mau car rental according to the needs of individuals and businesses in Ca Mau city. Cheap car rental service in Ca Mau, in the past time has been supported by many customers
Professional, long-term driver team
Systematic and rigorous training
Know the street and how to communicate gradually before becoming a standard customer service driver
The most competitive car rental rates with the best service quality. Cheapest price, safest service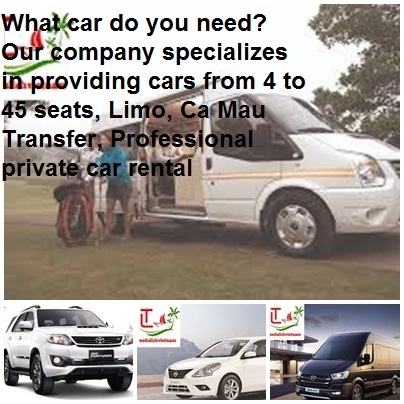 Ca Mau place, 45 seater car rental Ca Mau, liomusine car rental Ca Mau, Providing hassle-free Ca Mau Airport transfer services seven days a week, Taxi2Airport is the worlds premier website for booking airport transfers. We specialise in transfers to and from airports around the world and work with the best group of drivers and cars
Have enthusiasm at work in Ca Mau
Put Customers in the heart of service
Providing a wide range of Ca Mau service car segments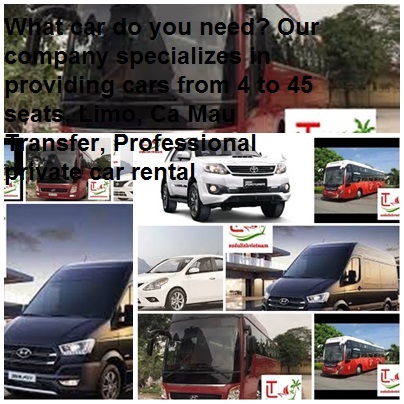 The brand has been affirmed for a long time
Commitment to customers about car rental service in Ca Mau
Transparent, clear information, signed contract
Handle situations quickly
Online sales system covering the whole country
Popular cars: Kia Morning, Hyundai Grand I10, Toyota Wigo, Chevrolet Spark, Honda Brio… Mid-range cars: Honda City, Toyota Vios, Kia K3, Mazda 2.. High-class cars: like Toyota Camry, Honda Accord , BMW 5-series, Mercedes E-classes…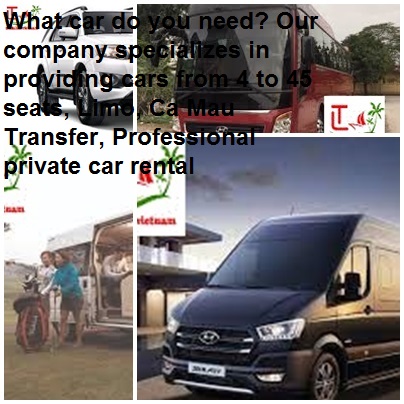 For more information, please contact us
Many satisfied customers are a place of trust
Modern car in good condition
Safe & on time journey
Service 24\7
Experienced, polite, English-speaking driver
Price is fixed and includes tolls
No extra charge for flight delays
Pay after the trip by US dollar or Vietnam dong